June 10, 2021 at 12:00pm - 1pm
The City of Edinburgh Council has outlined proposals to transform one of Scotland's largest brownfield sites, Granton Waterfront, into a new coastal town with around 3,500 homes.  At this event, members of the design team will present the Vision, Principles and Strategic Development Framework for Granton Waterfront. They will cover how they collaborated and developed the Framework outlining the engagement process and addressing climate resilience in the design.
Core CPD Framework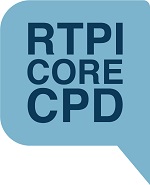 By attending this event you can learn about:
Championing Planning
Communication
Collaborative working
Engagement
Design
Urban design and climate resilience
Public realm
Landscape
STP are proud to partner with Collective Architecture, the first architecture practice to drive cultural change on construction waste management from design to construction by joining the Construction Waste Portal. Their specialist division Collective Energy was established in 2020, to offer key services and advice around how to make buildings, places, processes and communities more sustainable and effective. 
Founded in 1997, Collective Architecture was Scotland's first employee owned architecture practice, established to pursue the themes of participation and sustainability in architecture, with an output ranging from intimate community installations to large scale urban regeneration. 
As Scotland's national towns' collective, Scotland's Towns Partnership is also responsible for Scotland's Improvement Districts, which fosters the development and continued success of Improvement Districts across Scotland and promoting good practice in regeneration, sustainability and improvement of Scotland's towns and local communities. As we emerge from the Coronavirus pandemic which has highlighted the importance of having local towns, places and building that are delivering for their communities, combined with Scotland's climate change ambitions, we are looking forward to engaging with Collective Architecture and working together to fulfil our shared vision of sustainable and effective best practice for Scotland and its towns. 
WHEN
June 10, 2021 at 12:00pm - 1pm
Sponsored by
Supporting Scotland's Towns
Sponsored By
Supporting Scotland's Towns